(The previous edition can be found HERE)
The match I'm sharing with you this week is Marcio Andre vs. Isaac Doederlein from the 2014 World Championship. The match is not exactly a classic as it only happened three months ago, but is still one of my favourites from this year's World Championship.

Marcio Andre is one of BJJ's rising stars. At the age of 19 years old, he is already a black belt and has taken gold in every major tournament. He is a four time World Champion

(2014 brown, 2013, 2012 purple, 2011 blue), three time Brazilian National Champion (2013, 2012 purple, 2011 juvenile blue), two time European (2014 brown, 2013 purple) and World Pro Jiu Jitsu Champion (2014 brown, 2013 purple), and a one time World NoGi (2013 brown) and Pan American Champion (2013 purple).
Marcio represents Nova Uniao and is a black belt under Fabio Andrade. He is best known for his guard game, specifically his open guard which he uses to great effect. From the open guard he typically sets up a sweep where he can begin working his pass. Although, he is known for his guard, Marcio also has a very good top game. His guard passing is excellent, and makes good use of pressure when passing the guard.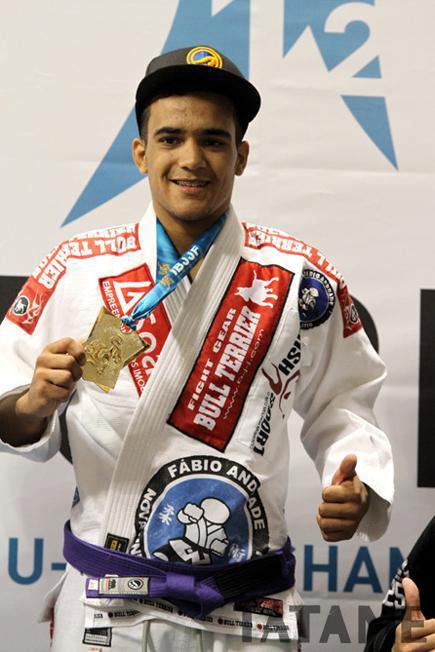 Marcio Andre
Just like Marcio, Isaac Doederlain is also a rising star in Jiu-Jitsu. He is a brown belt under Rubens "Cobrinha" Charles and has been on the podium in many IBJJF tournaments. He is a two time European (2014 brown, 2013 purple) and American National Champion (2013 purple weight and absolute). This year he also took bronze at the Pan Ams and Silver at the World Championship.
Coming from Cobrinha's gym, you would expect nothing less than for Isaac to have a solid guard game. The two guards he uses consistently throughout his matches are the spider and de la riva guard. From both of these guards, Isaac has very good sweeps and after sweeping his opponent will generally transition to the back.
Isaac Doederlein
Those of you with a keen eye would have realised that I have already given away the result of this match. I try not to give away the result in each 'Match of the Week' but since this was a finals match, the result would be shown in their credentials.
The match itself is full of action. Both competitors exchange multiple sweeps on each other and try to aggressively pass each other's tricky guard. This match is full of excellent guard work and passing. Be sure you watch until the end because "something" happens.
The video of the match can be found below. I hope you guys enjoy!
(If you are viewing on a mobile device, please click

HERE

)